Payment methods
We offer a selection of payment methods. A reliable, safe standard has been taken into account. All offered payment methods are up-to-date, continuously made more secure, and have been established in online trading in the past years. You cannot make a payment if you will pick up the order yourself.
Advanced payment via bank transfer (SEPA)

With this payment method, we provide a discount of 3% on your order!
For decades, the bank transfer has been a proven and reliable payment method via the bank of your trust. The transfer time is usually 2 working days. With online transfers, it is often booked the next day. Please use the given SEPA information (IBAN/BIC) for all payments. Entering the purchase and customer number in the reason for payment ensures a clear assignment of the payment in order to speed up the shipment process. In exceptional cases, your transfer can be delayed if your bank belongs to a different bank pool (e.g., credit unions, savings banks, private banks).

Our bank details:
Account holder: Spreen Online GmbH
IBAN: DE82 4285 0035 0000 1075 24
BIC: WELADED1BOH
PayPal

With PayPal, you pay online simply, quickly, and securely if you have a corresponding account. You can also pay without PayPal credit with your credit card or via direct debit if the necessary data are verified. Simply log in with your email address and password during the ordering process and pay the purchase amount with just one click. Since the receipt of payment is directly confirmed to us by PayPal, your order can be processed immediately. Further information...
Purchase on Account

Sorry! This payment method is only available for customers with a German invoice address. But we are working on it and hope to offer you this service promptly.
Debit Entry

Sorry! This payment method is only available for customers with a German invoice address. But we are working on it and hope to offer you this service promptly.
Credit card

We almost accept all credit cards and debit cards. Apart from the usual providers such as MasterCard, VISA, American Express and Diners Club, you can also pay by Carte Bleue, JCB, UnionPay, Servi Red, PostePay and many other cards. This payment method is offered in cooperation with PayPal. But you do NOT need a PayPal account to use this payment method! Further information...
Amazon Pay

If you are already an Amazon client, you can refer to the customer data that are saved on Amazon.de, meaning that you log in to our website and pay with your Amazon account data. It is fast, easy, and secure. Simply press the button "Pay with Amazon" during the ordering process and complete the ordering process as usual so that your order can be processed immediately. Further information...
Shipping
We try to send the items ordered by you to your delivery address as inexpensive, as quickly, and as safe as possible. We deliver worldwide. The amount of the shipping costs depends on the delivery address. The shipping costs are only valid for regular orders. Please ask about the shipping costs before placing larger orders.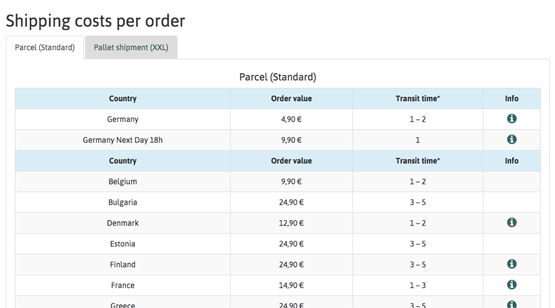 Please click on the chart in order to view a larger interactive display.
We ship with...

GLS is one of the leading package services in Germany. Under normal circumstances, package shipment takes place within 24 hours within Germany and within 24 to 96 hours within Europe. GLS offers complete shipment tracking and extremely low damage rates. With its own associated companies and partners, GLS covers 37 European countries and is connected to all major business centers in the world. The quality of the package service is the first priority at GLS.

DHL is available in more than 220 countries and territories worldwide and is therefore the most international company in the world. Therefore, DHL is also one of our partners for the national and international package shipping. As the market leader, DHL offers professional and worldwide transport services as well as customer-specific logistic solutions. With package, express, and logistics offers, DHL connects people every day and makes its customers lives easier.
DHL Packstations (D): The shipping to Packstations is only possible with the DHL shipping provider. In order to be able to use the shipping to a Packstation, a one-time registration at DHL is necessary. You can find further information on the registration and the Packstation on the DHL website.

DPD Deutschland belongs to the international DPDgroup, Europe's second largest package service network. With 9,000 deliverers and 6,000 pickup package shops Germany-wide, DPD consequently goes by the needs and life circumstances of all customers and receivers. An example for this is the branch-wide unique service Predict with card-protected live tracking, diverse options for the redirection of a package, and an exact delivery time window. All packages are transported entirely climate neutral.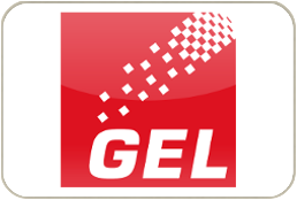 GEL Express Logistics is one of the leading express freight cooperations in Germany. Seventy committed and reliable transport service providers make sure that bulky, sensitive, as well as urgent shipments with special requirements are securely transported. The logistics service is not only available within Germany but is offered in 35 European countries. Through GEL Express Logistics, it is possible to check the shipping status of the shipment via online tracking.

Kuehne & Nagel (K&N) is one of the largest logistic experts in the world. In Germany they are working with more than 13,500 employees at around 100 locations. Worldwide, K&N is represented in 100 countries with more than 70,000 people. Kühne and Nagel transport goods reliably and punctually to every destination. In order to be always up-to-date, each consignment can be tracked online via the consignment tracking.